Home
AR News
Contact Us
PLANKTON NETS
Simple Plankton Nets
Closing Plankton Nets
Bongo Plankton Nets
Multi-Net (Tucker) Trawl
Student Plankton Nets
Stream Sampling Nets
WATER SAMPLERS
Horizontal Water Samplers
Vertical Water Samplers
Student Water Samplers
Secchi Disks
Limnology Field Kits
SEDIMENT CORERS
Universal Percussion Corer
Gravity Corer
Russian Peat Borer
Piston Interface Corer
Large Bore Sediment Sampler
Pore-Water Sampling
Extension Rods and Percussion
Hammer
Core Extruding Apparatus
Discrete Point Piston Corer
PLANKTON SAMPLERS
Plankton Traps
Haney Grazing Chambers
Light Traps
Limnocorrals, Microcosms, Enclosures
LABORATORY EQUIPMENT
Utermoehl (Phytoplankton) Sedimentation Chambers
Folsom Plankton Sample Splitter
Motoda Plankton Sample Splitter
Zooplankton Counting Trays


Visit AquaticResearchShop.com

Secure Online Shopping for CLOSING PLANKTON NETS
Closing Plankton Nets
Quantitative zooplankton analysis
Discrete vertical towing applications
Nets Include:
plankton net:

heavy duty Nitex® nylon net available in most mesh sizes (see current price list for available sizes); mouth to length ratios: 1:3, 1:4, 1:5 or 1:6; nets include a brass ring choke band (except Puget Sound Net)



stainless steel ring and three point bridle:

ring diameters (cm): 15, 20, 30, 50, 75, or 100
stainless steel ring with cross-bar and towing eye also available
units include 20 m calibrated (1.0m intervals) polypropylene line and reel



PVC collecting bucket:

COD END ASSEMBLY 2-piece PVC design with detachable lower section with lateral apertures and lined x (specified) micron mesh, CNC made " threaded coupler" with band clamp zinc ballast weight. Available in various diameters and volumes: 9 cm (500 ml), 11 cm (1000 ml), and 17 cm diameter (4000ml).

release mechanisms:

snap-shackle release:

stainless steel construction
sharp pull on towline actuates net closure at desired stratum
very accurate and reliable closures to 50m
not recommended for net diameters over 30cm

weight actuated release mechanism: cast bronze and stainless steel construction

available in light duty, heavy duty, and double release models, actuated by split messenger(s)



split messengers:

cast bronze and stainless steel construction
easy opening-closing design for attachment to any point on a cable
attaches to cables up to 7mm diameter
available in: 333gm, 666gm, and 1.0kg sizes



Options:

custom sizes and modifications
mechanical flowmeters (G.O. model R2030)
non-metalic rings and bridles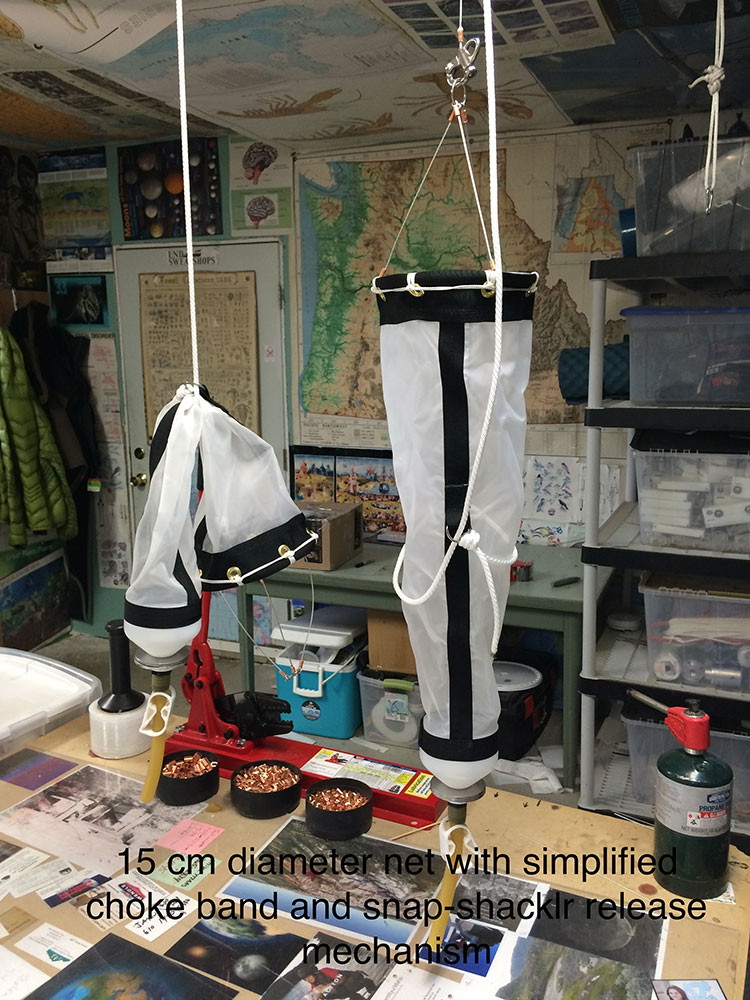 REDUCTION COWLINGS, TAPERED COLLAR. (A.K.A. WISCONSIN COLLARS) USED TO REDUCE VOLUME TO SURFACE AREA RATIO ON PLANKTON NETS. ALLOWS LONG VERTICAL OR OBLIQUE TOWS WITHOUT NET CLOGGING. USED IN CONJUCTION WITH RELEASE MECHANISM TO OBSTRUCT MOUTH OPENING AFTER NET IS ACTUATED TO CLOSE AT DEPTH. CONSTRUCTED FROM HEAVY REINFORCED POLYESTER MATERIAL, REINFORCED AND GROMMETS ON BOTH ENDS TO ACCEPT SS RING AND BRIDLE AND PLAIN LOWER RING (PRICED SEPARATELY ABOVE).
Visit AquaticResearchShop.com

Secure Online Shopping for WISCONSIN PLANKTON NETS
PUGET SOUND COLLARS CYLINDRICAL COLLAR USED TO CREATE "NON-FILTERING HEAD SPACE" ABOVE PLANKTON NETS. FLOWMETERS CAN BE MOUNTED INSIDE TO INTERNAL TABS. DESIGNED FOR LONG VERTICAL HAULS. USED IN CONJUCTION WITH RELEASE MECHANISM TO OBSTRCT MOUTH OPENING AFTER NET IS ACTAUTED TO CLOSE AT DEPTH. CONSTRCTED FROM HEAVY REINFORCED POLYESTER MATERIAL, GROMMETED BOTH ENDS TO ACCEPT SS RING AND BRIDLE AND PLAIN LOWER RING (PRICED SEPERATLY ABOVE)
Visit AquaticResearchShop.com

Secure Online Shopping for PUGET SOUND PLANKTON NETS